Explore the exquisite flavors of Chinese and Western cuisine while enjoying the cozy and relaxing atmosphere of our restaurant.
Contacts: +7 3952 266-666
Address: 6, Shiryamova Street, Irkutsk (1st floor of the Vozdushnaya Gavan Hotel)
Operating hours: 06:00 – 02:00 (6:00 AM – 02:00 AM) daily.
The Dongfang Wo Restaurant is always glad to welcome you as a guest and invites to taste the traditional dishes of Chinese and Western cuisine!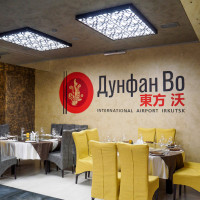 Our kind and welcoming staff, unique interior design, cozy setting, and for sure, tasty dishes will help to feel the atmosphere of ancient culture and hospitality of China.
We greatly appreciate each and every one of our guests. That's why we are pleased to offer you a rich menu comprising Chinese and European specialties, providing something special for everyone.
Food & Cuisine
For those who want to explore new tastes and to try something special, the Dogfang Wo Restaurant offers to enjoy a stunning oriental dishes which bring novelty to your daily routine. You will be pleasantly surprised with the menu variety presented by the wide range of incredible dishes.
The Restaurant gives opportunity to discover four of eight great cuisines of China, such as:
• Cantonese (Guangdong) cuisine with its mild, fresh, natural, and slightly sweet flavors;
• Hunan food renowned for being hot and spicy, with pickled and fermented flavors;
• Shandong cuisine is famous because of its exquisite cutting technique and cooking methods. Flavors here are generally strong and rather savory / salty.
• Sichuan cuisine that is one of the most popular in China, famous for its brash flavors, mouth-tingling pepper, and sweat-inducing heat.
The menu is made up of appetizers and snacks, salads, soups, main course, side order, sweet course and beverages.
It should be mentioned, that one of the key features of Chinese cuisine is freshly prepared food. For this very reason all meals in Dongfang Wo Restaurant are made from scratch and fresh-to-order. Special emphasis is placed on fresh and quality ingredients. In addition to food freshness, all Chinese dishes are famous for its aroma, taste, color and appearance. Our chef takes this fact as inspiration to create delicious, originally decorated dishes in his own interpretation. That's why every dish becomes a masterpiece of culinary art.
---
For guests who prefer traditional European dishes, Dongfang Wo Restaurant serves Western cuisine. Delicious menu offers a spread choice of meat, seafood and vegetarian dishes. It begins with light and tasteful cold appetizers such as mixed vegetables, cold cuts, fish platter and so on. In salad menu you'll find traditional and so popular "Greek" and "Caesar" salads, and for sure, salad a la Russe – "Olivier". The menu features variety of hot appetizers, soups, hot dishes and side dishes. For lovers of Russian cuisine – a classic borsch and Siberian fish soup; for those who have a sweet tooth – a wide choice of delights, such as Russian syrniki (fried quark pancakes) and bliny (pancakes), croissants, Panna cotta, ice cream and much more.
Bar menu, that offers a rich collection of various beverages from light cocktails, coffee and tea to various stiff drinks, will make your stay at the Restaurant even more special and delightful. Our bartender will help you to make the perfect drink choice.
---
Another highlight of Dongfang Wo Restaurant is a menu of the day at an attractive price. On weekdays, we invite local business people and other guests to try our lunch specials. We do our best so that you come back to us; therefore, we change our special lunch menu daily and keep it low-priced.
Restaurant offers 20% discount for JSC "International Airport Irkutsk" staff members.
Interior & Ambience
Our Restaurant attracts not only the delicious food but also memorable elegant interior that was specially designed to enhance guest comfort and give good impressions. Cozy and warm ambience, luxurious and tastefully furnished halls, well-thought-out subdued lighting and pleasant music create magnificent and relaxing atmosphere. On the wall, there is a number of paintings of the Irkutsk artist N. Sheltunov.
For the comfort of guests, the space of the Restaurant is divided into several thematic zones with various colours and light accents:
– a cozy and bright "European room" in light green colours provides space for up to 30 guests;
– an elegant spacious "Banquet hall" with panoramic windows and space for 120 guests;
– a "Hookah lounge" area with space for 20 guests;
– a bar counter area with several coffee-tables;
– VIP room provides space for up to 10 people that is perfect for business dinner or private parties.
Located within the Hotel, our Restaurant offers an environment perfect for business and leisure.
Moreover, we provide a suitable setting for such occasions, as birthday celebrations, company dinners and any kind of events. You may entrust us your holiday organization.
We look forward to welcoming you as our guest!