The Vozdushnaya Gavan Hotel welcomes passengers traveling through the International Airport Irkutsk as well as guests or citizens of Irkutsk.
The Vozdushnaya Gavan Hotel is a five-storey building with 5980.6 square meters space and capacity of 231 people. The most rooms and hotel's public areas undergo partial renovations, refurbishment and maintenance every year to keep a high standard.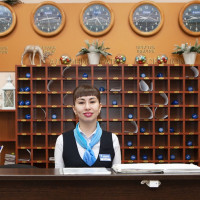 The Hotel offers 145 comfortable and cozy rooms in 5 different categories:
Junior Suite
Family Suite
Superior 1st category
1st category
2nd category
All the rooms are equipped according to modern standards and requirements. Each room has everything that is necessary for a pleasant stay: air conditioner, flat-screen TV, mini fridge, electric kettle, phone. En-suite private bathroom with shower or bath includes hairdryer, towel set and complimentary toiletries. In your room you will find such facilities as a bed (three-quarter, twin or queen), a writing desk and chairs, a bedside table, a wardrobe, blackout curtains and all necessary tableware. All the rooms are decorated with soft colours, the floor is covered in wall-to-wall carpeting. A free hot/cold water dispenser is available at the rest hall on every floor. To make our guests' stay comfortable there are two fully equipped ironing rooms on the 2nd and 4th floors. The baggage room is available for an extra charge on the 1st floor of the Hotel.
Breakfast is included in the room rate (except for the short-term accommodation and for children under 12 years old provided with an extra bed). Half board (lunch or dinner) or full board (lunch and dinner) are available for an extra charge on request. Breakfast is served in the restaurant located on the 1st floor. A consistent housekeeping service, cleaning and changing bed linen and towels are also included in the room rate. Daily room cleaning is available for free upon guest request.
Complimentary Wi-Fi is provided in all the rooms and throughout the hotel premises.
For our guests departing from Irkutsk, the live flight information is available 24/7 at the entrance hall (the 1st floor of the Hotel), so they are not afraid to miss their flight with us.
---
If you wish to spend your time in a more active way, you have an opportunity to engage in table tennis or air hockey at the rest hall on every floor without any charges. You can also play complimentary board games (chess, checkers, and dominoes) that are available at the Front Desk upon request.
If you are looking to enjoy quality and tasty dining without having to leave the hotel, our Hotel has on-site Restaurant «Dongfang Wo» located on the 1st floor. Here, you can explore the exquisite flavors of Chinese and Western cuisine enjoying the cozy and relaxing atmosphere. The restaurant offers a rich menu with a variety of dishes providing something special for everyone.
In the main entrance hall there is a possibility to have a cup of fresh coffee or tea with candy or cookies available for purchase at any time: here there are coffee and food box vending machines. Sofas, coffee-table with newspapers, LCD TV can also be found here.
For those who are looking to unwind with a nice glass of wine or a classic cocktail, or to read a book enjoying fresh brewed coffee, espresso drink and tea, or to gather with friends in relaxing atmosphere, we welcome you to visit our Lobby Bar on the 1st floor. The Lobby Bar with its casual ambience will make you feel cozy and comfortable.
If you don't have time to buy souvenirs outdoors, in our Hotel you will find a Souvenir Shop. It provides a wide range of unique gifts and other hand-made products to bring home after your journey to Irkutsk or Baikal.
For guest's safety the Hotel provides 24/7 video surveillance and security services. Our surveillance system covers all facilities and the territory of the Hotel. In addition, the Hotel adheres to modern fire safety requirements: all parts of building and public areas have a modern fire security alarm with voice evacuation message in Russian and English. All the rooms are equipped with smoke detectors; fire safety equipment is available on each floor.
---
Our Hotel provides a complimentary on-site parking equipped with entry/exit gate arms to all guests. For guests with special needs there is a ramp with grab bars from the hotel entrance. Also, we have an elevator serving 5 floors at the Hotel.
Thanks to the ideal location of Vozdushnaya Gavan Hotel, that is just a three-minute walk from the International Airport Irkutsk, and complimentary wake-up call service, you will never miss your flight. Moreover, in case of a flight delay or a long layover, or an early flight, our Hotel will become the perfect place to recover your strength and have a comfortable rest.
The Vozdushnaya Gavan Hotel's location is also great for business trips as well as for excursion tours. If you are the guest of Irkutsk, you can easily reach any point of the city and visit all the city's highlights, using the public transport stops within walking distance of the Hotel. For those, who got used to travel with comfort and prefer to get a good service, the car rental service is available at the Hotel. The comfortable environment, the best location, the hospitable atmosphere, good facilities and the full range of services will be suited for both business and leisure travelers. Our Hotel is also very popular among pilots and flight attendants, to whom we provide additional services and special offers.
For business meetings and other events, JSC "International Airport Irkutsk" provides a full range of conference services. If you want to save your time and focus on the most important things, you may entrust us your event organization. JSC "International Airport Irkutsk" offers a conference room, located on the fourth floor of the domestic airport terminal building. Our conference room is ideal setting for business and corporate meetings, conventions, special gatherings, any kind of presentations and much more. It is outfitted with the modern facilities and advanced equipment such as video wall, audio gear, lighting equipment, laptops, presentation equipment, and office appliances. The space comfortably seats up to 150 guests. The rate includes water dispensers, presenter, pointers and unlimited Wi-Fi. Our Hotel with 145 cozy rooms offers comfortable accommodation for the participants of your event. Moreover, the "Vozdushnaya Gavan" Hotel provides Special offers for hotel accommodation: on the condition that you rent a conference room at the Airport – you get 10% discount for the participants of the event. We'll be delighted to set up your perfect business meeting.
---
The "Vozdushnaya Gavan" Hotel is certified under the China Friendly program. According to this program designed to create a comfortable environment for Chinese tourists, all information in the Hotel is available in Chinese, moreover there is on-site restaurant providing a rich menu with a spread choice of Chinese food. Chinese guests are always welcome in our Hotel.
To make our gests feel welcome and comfortable is our priority. We have been continuously improving our customer service to satisfy our guests and to provide the best possible guest care.
Our efficient staff will give you a warm welcome at our Hotel and will do everything possible to ensure your stay is worry-free and enjoyable. We look forward to seeing you on your next trip to the Vozdushnaya Gavan Hotel!