If you wish to spend a weekend, holidays or short break with your family or friends away from the city's blare and bustle, the perfect solution is the Recreation Center of JSC "International Airport Irkutsk".
The cozy recreation center is located on the 26th kilometer of the Baikal tract, just a few minutes' walk from the Angara riverside.
How to get here?
By car. There is a complimentary on-site parking area with space for up to 15 cars.
By regular bus or by public transport. Express buses regularly run along the Baikal tract, which is the main road from Irkutsk to Baikal. The route begins from the bus stop not far from the Central Market. At the 26th kilometer of the Baikal tract there is a bus stop called "Goluboy zaliv". The recreation center is within a walking distance from it.
Rooms
On the territory of the Center there are two residential complexes: a comfortable cottage with 16 beds and a VIP cottage. That is ideal place for large group accommodation.
Cottage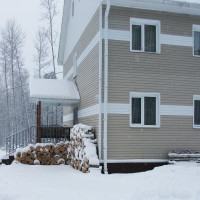 A two-floor cottage is ideal for families with children and/or for large groups of friends. There are 8 double rooms: six on the second floor, two on the first. It is possible to provide an extra bed.
All amenities are in rooms. You can take a hot shower. A shower room and a bathroom are on the 1st floor, and two other bathrooms are on the 2nd.
You can cook or reheat food in the spacious and bright kitchen. It is located on the 1st floor and is equipped with all necessary equipment: refrigerator, stove with cooker hood, microwave. Here you can wash the dishes with hot water. By the way, all the dishware – plates, teacups, glassware, and cutlery – is also available.
You can sit at the table in the spacious living room, decorated in a warm rustic style. There are soft sofas and a large table. At your desire, the furniture can be arranged in any configuration.
Wi-Fi, large-screen TV set, audio system with karaoke function are available.
VIP-cottage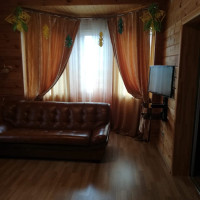 A high-class rest in a cozy and exquisite environment is organized in VIP-cottage!
Here you will find three cozy bedrooms, each of those is equipped with a double bed and has a different colour scheme. It is possible to provide an extra bed. All the bedrooms are located on the 2nd floor and feature windows affording a good view of the forest. A shower and bathroom are also located on the 2nd floor.
On the 1st floor there is everything for comfortable rest of a large friends groups as well as for informal business meetings meeting.
You can make lunch in the kitchen. At your disposal there is all necessary equipment: refrigerator, stove and oven, microwave oven, kettle, dishware, glassware and cutlery.
The cozy dining room is equipped with necessary furniture set. For your convenience there are tablecloths and napkins.
After dinner you can enjoy a game of billiards with your friends in the billiard-room that directly adjoins the spacious lounge room with large-screen TV set and comfortable soft chairs and sofas.
During the warm season there is a possibility to arrange outdoor dinner at the large terrace.
Other facilities
Russian Banya (sauna)
There is everything you need: a steam room, a lounge area equipped with the necessary furniture and dishware, a shower room. Sheets, bath towels and other bath equipment and implements are provided.
A place for a campfire!
A specially designated place with comfortable benches that is equipped in accordance with the safety standards. Firewood is provided. In case of it's getting cold, you'll be given a warm throw blanket.
Outdoor grill & Barbecue
You will have grill grates, skewers and firewood at your disposal.
Summerhouse
A place where you can have dinner in the fresh air regardless of the weather.
Services
Badminton;
Volleyballs and soccer balls;
Skis (full set: skis, boots and ski poles);
Winter slide;
Snow tubes;
Sand-pit.
Ticks are under control!
In order to prevent the risk of ticks' infestation, the disinfestation of the recreation center territory is performed twice a year: in May and June.
Reservation
To make a reservation, please call: +7 914 898 74 15, +7 904 151 57 31.